International Yacht Ownership for 1/3 of the price
There are few experiences in life that are as relaxing, luxurious or more enjoyable than cruising in a yacht, basking in the sunshine in an exotic destination. For those who consider yachting as simply a pipe dream or for inexperienced seafarers, who wish to sample life on the water, shared yacht ownership allows you the chance to experience the dream life out at sea at one third of the luxury yacht price.
Through companies such as SmartYacht, part-ownership schemes are designed to bring the luxury lifestyle to you at just a fraction of the price.
With a wide ranging fleet in their arsenal, SmartYacht offers many different models and styles to choose from, each of which comes with an array of benefits. Offering clients the option to co-own a yacht or membership to their Yacht Club, SmartYacht tailor each and every package to suit the individual, offering great yachting experiences for every price range. Whereas full ownership of the Azimut 62 costs EUR 639,000 with SmartYacht, a ¼ share costs less than EUR 160,000, with additional costs also split proportionately.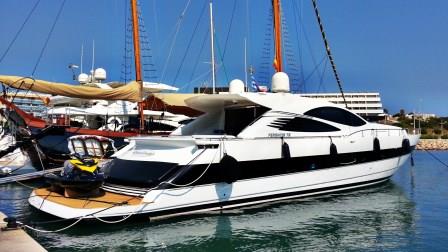 As well as offering yachts for shared ownership in the Côte d'Azur and other desirable Mediterranean destinations, there are vessels available in the Caribbean, Seychelles and Dubai, enabling guests to holiday in the most exclusive locations.
For seasoned globetrotters, the most alluring service on offer is the SmartYacht vacation club. Investment stretches even further with this incentive; SmartYacht caters for those who enjoy yachting regularly, as well as those who are more occasional in their ventures. The SmartYacht vacation club is the ideal option if you like variation in your yachting destinations: visit Croatia one month and Seychelles the next. Access your favourite vessel, spending up to 12 weeks of the year at sea with your family and friends.
In exchange for an admission fee of EUR 100,000, you and your family can enjoy the summer high season in crystal blue Mediterranean waters, wintertime in the gloriously tranquil Caribbean, springtime in the Persian Gulf and autumn in the stunning Seychelles.